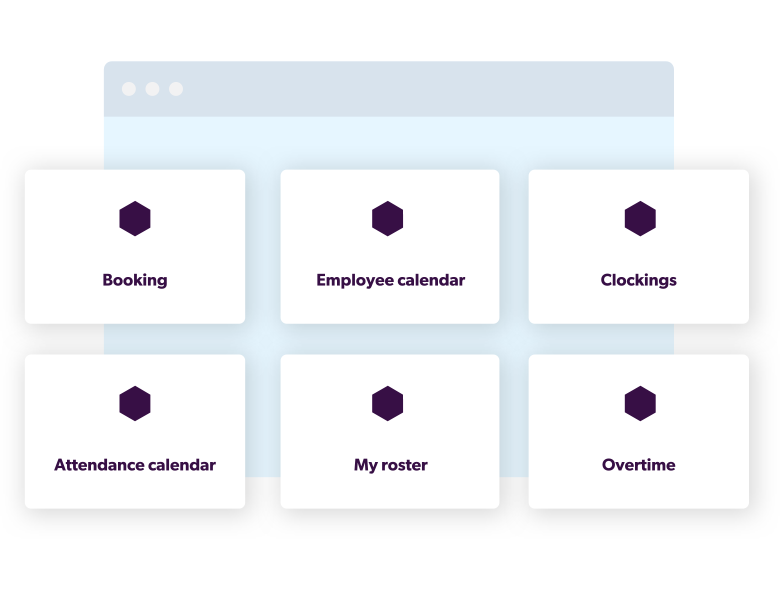 Real-time employee attendance and absence tracking
Uses state-of-the-art electronic timeclocks equipped with secure Id-badge readers, facial recognition or fingerprint readers. Office staff can use a self-service browser or a mobile device.
Real-time access to attendance & absence details and upcoming rosters gives managers the tools to improve team management, putting them in control of current and future activities.
User reporting and analytics provide management information for smarter decisions.
Automated input into payroll applications reduces payroll administration and increases payroll accuracy.
Seamlessly collect valuable time and attendance data
Capture time and attendance information from your employees in a level of detail you've never had access to before. Crown enables organisations to record and view a higher quality of data in comprehensive time and attendance reports which can be used to create enhanced workforce processes.
Data is automatically recorded through a range of input devices. From secure id-cards to facial recognition, finger scanners and web browsers, we have an option to suit all working environments. Recording attendance is just as easy for remote workers thanks to Crown's secure mobile access – meaning managers can view attendance up to the minute for every single employee.
Take control of absenteeism with data-led decision making
Crown Time and Attendance provides user-reporting and workforce analytics to highlight the key trends from your organisation's attendance data. This allows managers to adjust schedules, staff deployment and working practices accordingly and measure the resulting productivity improvements.
Absences are instantly segmented by category and reason to produce focused insights into the root causes of absenteeism. The system automatically monitors for absence occurrences that unless checked, can adversely affect business performance.
Streamline your data capture with HR and payroll integration
With streamlined data capture of hours worked and automatic processes for leave and absences, Crown saves your managers and team leaders time and reduces their paperwork. Data is captured once only and used to populate all your organisation's relevant systems – including corporate HR and payroll applications which can be seamlessly integrated with Crown.
Organisations that rely on Crown's
market-leading time & attendance
Beyond time and attendance
Crown's powerful time management functionality works in harmony with the other core features of the system to make your workforce management more efficient and cost-effective.
Rostering & resource scheduling
Real-time attendance data helps manage unplanned absences and gaps in the schedule at short notice.
Payroll & HR integration
Logged time and absence data flows instantly into existing payroll and & HR applications.
Access control
With a single shared database, access permissions can be automatically configured by role, responsibilities and schedules.